Welcome to the Zersen Family Website
Willkommen auf der Webseite der Zersen Familie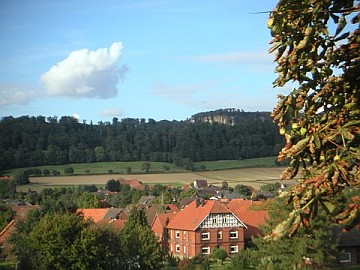 This website seeks to connect the extended Zersen families throughout the world, providing history, genealogical information, coming events and family activities.
Diese Webseite versucht, die über die ganze Welt verstreut lebenden Zersen-Familien zusammen zu bringen. Sie versucht Geschichtliches und Hintergründe zu vermitteln, Informationen über unsere Stammbaumforschung, anstehende Ereignisse und Familienaktivitäten zu geben.
We invite you to visit it regularly as well as to make contributions to it with pictures, stories and family statistics.
Wir laden Euch ein, diese Seite regelmäßig zu besuchen und eigene Beiträge in Form von Bildern, Geschichten und Familiendaten zu liefern.
All members of the family with the spelling, Zersen, are descended from our ancestor Cord (Curdt) Zersen (Zeerssen), born 1623 in Hamelspringe, Germany. There are less than 150 people with this surname worldwide today. Naturally, there are larger numbers of relatives who as a result of marriage no longer bear the surname Zersen. Some family members in Germany have used the spelling Zerssen. Others with no direct family ties in recent history are members of the family von Zerssen. All of them have ancestral roots in the village of Zersen, south of Hanover, which is over 1,000 years old.
This website is a work in progress and seeks to provide information and to help all of us to get to know one another better.