Recipes from Zersen, Germany
This is a collection of recipes either from the Village of Zersen or from relatives who have passed on traditional recipes from the Zersen family heritage.
Hierbei einige Rezepten entweder vom Dorf Zersen oder von Verwandten die noch Rezepten aus der Zersenen Herkunft haben.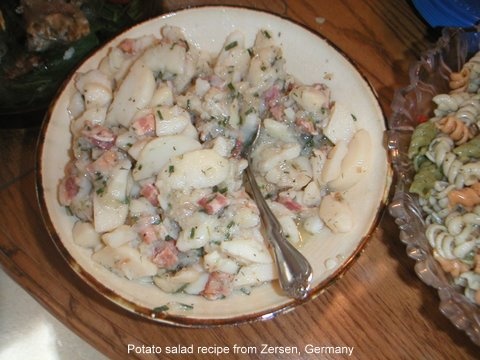 Potato Salad (Kartoffelsalat)
Ingredients:
2 pounds red potatoes
1/4 pound bacon, sliced in squares
4 medium mild onions, minced
1/3 cup vinegar
2/3 cup vegetable broth (can use boullion)
8 Tablespoons Sunflower oil
Fresh ground pepper
Generous amounts of chives, parsley and dill
Preparation:
Boil potatoes, peel and cut in slices
Simmer onions until transparent, add half the vinegar, the vegetable broth and pepper and pour over the potatoes and mix
Let rest for two hours
Fry squared bacon slices, add remainder of the vinegar and the Sunflower oil
Mix into the salad along with the chives, parsley and dill Salt and pepper to taste
Serve room temperature
(Heidi Hornig-Fruehwald)
---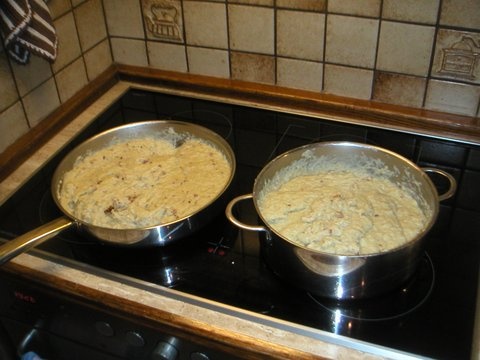 Zerser Puffer (Lina Claus from Zersen)
A traditional dish from Zersen with ingredients that farmers always had on hand.
Ingredients:
20 small to medium-sized red potatoes, finely grated
1 onion, sliced finely
200 grams bacon or pork belly (to be trendy), cut in small pieces
6 eggs
1 quart milk
Salt to taste
Preparation:
Brown bacon, remove some of the grease
Add onions and simmer for five minutes
Mix grated potatoes, 2 teaspoons salt, eggs and about 1/2 quart milk together vigorously and pour into the frying pan over the bacon and onions
Continue to cook, stirring continuously. As the contents thicken, continue to add more milk and continue to stir. The contents should become a thick mixture.
The dish is finished when the potatoes are done.
Eat fresh bread and homemade pickles with this.
Stokepuffer oder Zerser Puffer (Lina Claus aus Zersen)
Zutaten:
20 kleine bis mittelgroße Kartoffeln, fein gerieben
1 Zwiebel, ca.
ca 100 g geräuchertes durchwachsenes Bauchfleisch
ca 100g fetter Speck,
6 Eier
Milch
Salz
Zubereitung:
Speck und geräuchertes Bauchfleisch in der Pfanne auslassen, Zwiebel darin anrösten.
Die fein geriebenen Kartoffeln, ca 4 Teelöffel Salz, Eier und etwa 1/2 Liter Milch miteinander verrühren und in die Pfanne zu dem ausgelassenen Speck und der Zwiebel geben. Unter ständigem Rühren aufquellen lassen, wenn die Masse dick wird Milch zugeben, immer wieder rühren und gegebenenfalls nochmals Milch zugießen. Es muss ein zähflüssiger Brei werden. Das Gericht ist fertig, wenn die Kartoffeln gar sind. Falls nötig mit Salz abschmecken. Stokepuffer are made from ingredients which farmers always had at home in earlier times: potatoes, onion, bacon, eggs and milk.
Dazu isst man frisches Brot und selbst eingelegte saure Gurken